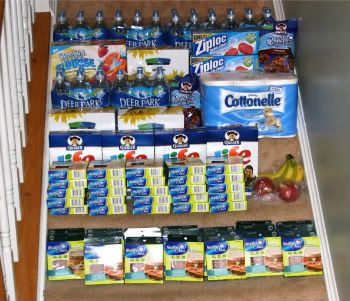 I did 4 back to back transactions (no small feat at 8:30 in the morning with 3 small kids in the self check out lane!)
I bought:
45 packs of Healthy ones lunch meat
4 boxes Life cereal
6 six pack of Deer Park water
2 packs Quaker chocolate rice cake snacks
3 boxes of tissues
1 Capri Sun
2 boxes Ziploc gallon size freezer bags
1 12 pack Cottonelle
5 bananas
2 apples
I walked into Safeway with $15 in catalinas, spent $1.40 in cash and walked out of Safeway with 66 items worth $186.51 and with $15.25 in catalinas in my wallet.
Totaling my receipts since the Living Well promo began I have received $1340.90 worth of groceries. I have spent $37.42 out of pocket and still have $15.25 in catalinas to spend in the store. I also have received $18 in free gas on a gift card to BP gas stations. If you subtract the catalinas and free gas from my out of pocket expenses, it brings the actual total down to $4.17!
The Living Well promo at Safeway has enabled our family to donate:
150 packets Bertolli sauce $3.49 x150 = 523.50
65 packets Healthy Ones lunch meat $2.69 x 65 = $174.85
20 bottles Dial handsoap $1 x 20 = $20
That's a total of $718.35 worth of groceries we've been able to give to the local food bank. (And that's just the stuff I know we donated multiples of.) This is why I love couponing so much. I'm able to get the food my family needs, but I'm able to multiply my efforts to help others. With 4 small kids at home it's really difficult to find volunteer opportunities I can participate in, but by using coupons I'm able to volunteer my time in a different way, shopping for families in need and providing them with goods they need for their own families.