In our family we have the tradition of the kids making gifts for each other. In the past they've come up with some great ideas and been able to pull them off with a bit of help from Mom.
Most were made from things we already had around the house, which makes them cheap too!
Hits from last year included:
Sleeping bags for their favorite stuffed animals: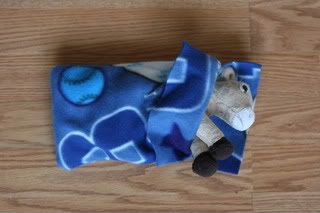 Just sew up a fleece into a rectangle.
A car mat.

(the 3 yr old made this for the 5 yr old. He drew the path for the car, I cut it out and he helped me use the machine to sew it up. I cut out the houses and he glued on the windows.)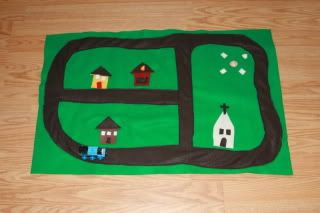 A tutu and a "dancing hoop"/crown
:
For the tutu just cut long lengths of tulle and tie onto elastic. For the hoop tie different lengths of ribbon onto quilting/embriodery hoop.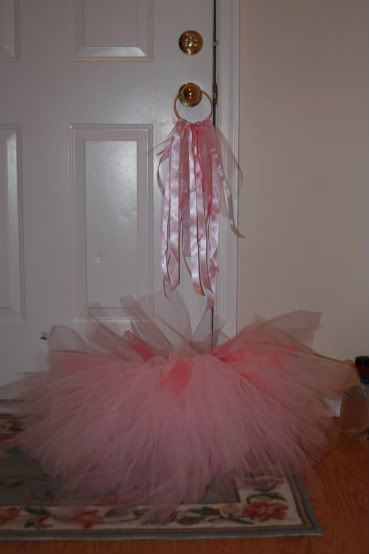 The oldest sewed
fleece pillows
for each of her brothers. (no picture.)
The 5yr old made a
"no-sew" blanket
for the one year old to use in her car seat. (no picture) She liked playing with the fringe and it kept her cozy!
The almost 7 yr old made a
resuable lunch bag
for her dad's lunches. She sewed up a rectangle of fabric and added a drawstring.
This year the 6 yr old has made
crayons
for the almost 2 year old. He took all the broken bits and pieces of crayons, removed the paper and placed similar colors in the individual cups of my mini muffin pan.
Tutorial here.
He also made a
sacrifice chain
for his big sister. She's been wanting one, and now she'll have one made with love by her little brother!
Tutorial here.
The 4 yr old has made a
decorated picture frame
for a holy card of the 7 yr old's favorite saint:
He also has made a
game
for his nearly 2 yr old sister. (It's an idea 8isgreat gave me when my oldest was nearly 2.) He took a clean, empty parmesan cheese container, decorated it with stickers and cut drinking straws to place in it. Now she can shake them out and put them in individually through the tiny holes, or more than one at a time through the larger opening. She LOVES dumping stuff out and putting it back in so I know she'll really like this toy.
This year my almost 8 year old made a "Black Apple" doll for her little sister. She did most of it herself, tracing and cutting the pattern, picking out fabrics, sewing it up and stuffing it. It's all done (but the face to be painted). I'd love to share a picture of it but it's hiding in the same room as the almost 2 year old is sleeping in, so a link to the
tutorial on Martha Stewart
will have to do.
This is from Martha:
I also got into the act of homemade gifts last year. I'm no sew-er but I play one at my kitchen table this time of year!
I made:
Felt food: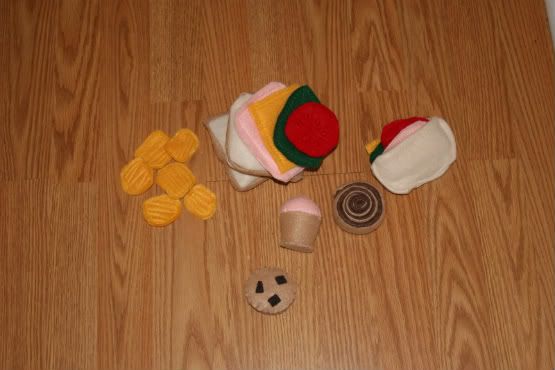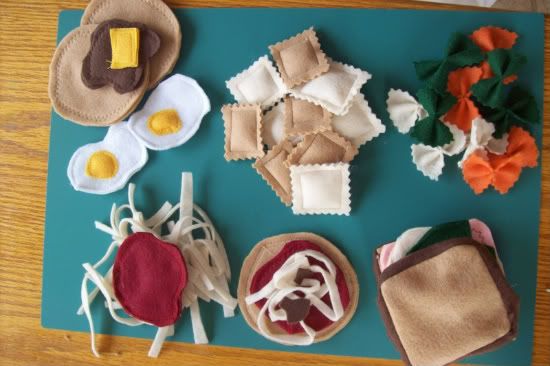 There are lots of free patterns and ideas you can find just by searching "felt food" online. If you make some I'd suggest using wool felt since it will hold up better.
A frog bean bag/lilypad counting game: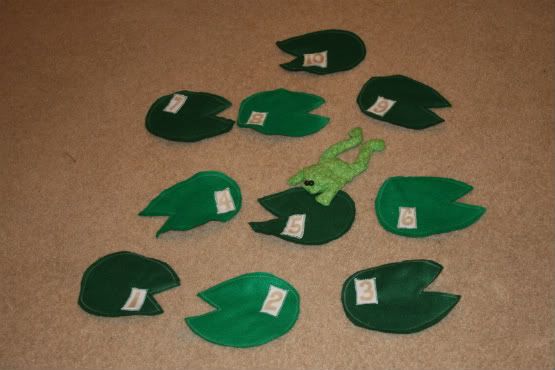 I saw this idea and got the frog pattern somewhere online, but I can't remember where now.
Capes for each of the three biggest: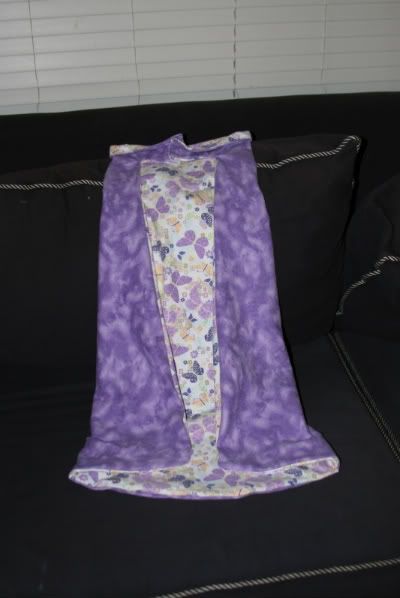 I found a free pattern online.
A babydoll "miracle blanket"
.
I looked at our regular miracle blanket and tried to size it down: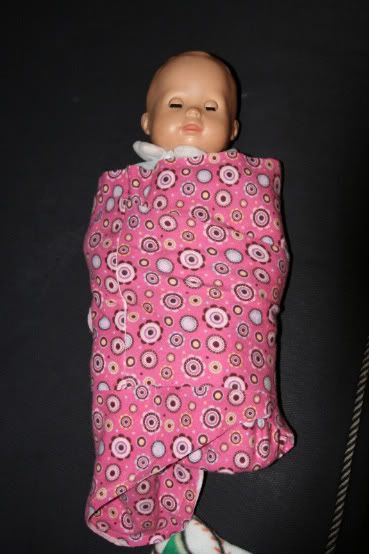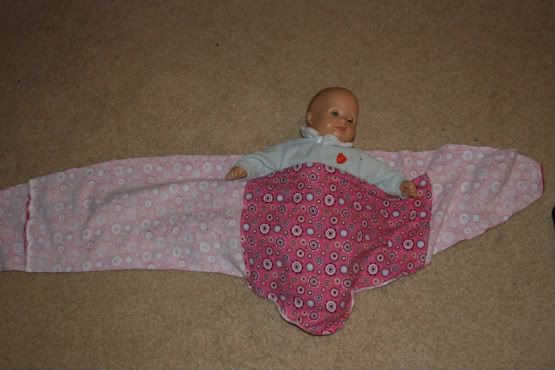 A baby doll sling.
Really eay, just sew a loop of fabric and fold in half:
Bean bags with a drawstring bag.
(no picture of the bag)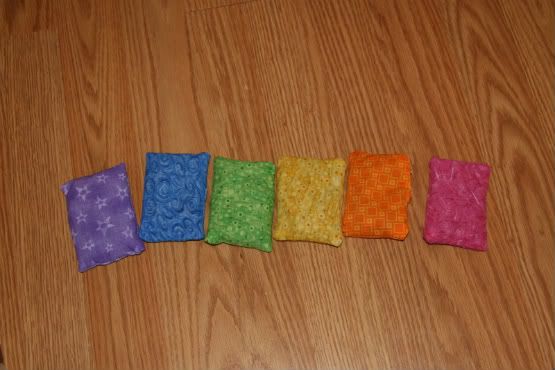 I think I cut these 4x3 inches and used yellow lentils to stuff. I started with black beans, but you could see the beans through the lighter colored fabric. These have been the biggest hit around here. They've become doll pillows, are hidden by one kid for the others to find, are used to help teach my almost 2 year old her colors, and thrown all around. (They love to hear the "splat" they make!)
Crayon rolls.
There are lots of tutorials online my my no sew-ers eyes start glazing over when I read words like "interfacing", so I just tried to wing it and used felt. They turned out cute. The one pictured was one I made earlier for a gift. In the ones I made for the kids I used regular fabric for the outside. (I put "Twistables in my kids's rolls.)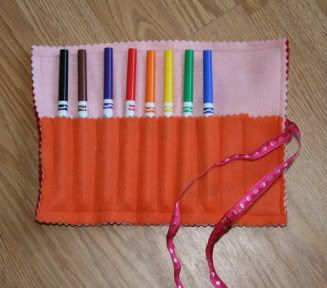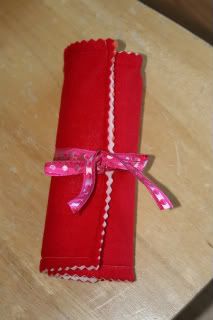 Eye Spy bags
I looked at several tutorials online and took bits and pieces of each and found what worked best for me. This is a quiet activity the kids like to pull out of the toy cabinet from time to time.
Appliqued Number Tshirts
Each kid got a tshirt with their age number appliques on.
Felt tic tac toe set.
Similar to this one on etsy, but I used felt backed baseball flannel fabric for the "o"s and used my ric rac cutters on the felt and made the "x"s stand alone, not on other circles. I also made it a pouch (sewed 2 pieces of felt together and made one longer so it could fold over and velcro to the back to hold all of the pieces inside.
I do have more ideas of things we've made or are making, but it's taken me two days to get this post together already and I just want to get it posted while it still might be of help to someone!